Vegas Slot Machines FREE
Giới thiệu Vegas Slot Machines FREE
✭✭✭ Vegas Slot Machines features the finest graphics and sounds to recreate the unmistakable atmosphere of Las Vegas casinos…
✭✭✭ Share your results with friends via Game Center, Facebook, and Twitter.
✭✭✭ Loaded with an in-game music player, auto spin setting, and other great features.
"It's difficult to resist spinning just a few times, and then a few times more… "- AppCraver.com
"Great graphics and sounds" – ievolution.ca
Experience the thrill Vegas reels with Viaden's Vegas Slot Machines FREE!
Especially for iPhone/iPod Touch, Viaden Media has designed incredibly cool graphics and sound effects to bring users the most exciting slot experience available! All the fun and none of the risk: play fantastic mobile slots without spending a cent!
Viaden Gaming, the recognized leader in online gambling games development, uses a special algorithm to bring its users truly random and 100% fair gameplay.
Features:
☛ Fun money only, so let loose and have a good time!
☛ Access to the highlycoveted Game Center LeaderBoard.
☛ Facebook, and Twitter sharing possibilities
☛ 20 achievements to unlock, so keep the reels spinning!
☛ In-game music player, to bring the real feel of Vegas.
☛ Auto spin settings; why not?
Every slots fan should try Vegas Slot Machines! Give it a spin!
Be the first to get the latest info on awesome deals, promo code giveaways, new releases, contests, product updates, and more!
Become our fan on Facebook: http://www.facebook.com/viadenmobilegames?ref=ts
Follow us on Twitter:
http://twitter.com/#!/viaden_mobile
Hình ảnh Vegas Slot Machines FREE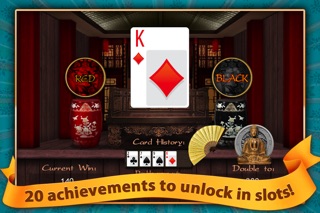 Thông tin bổ sung
File Size: 20,052 MB
Phiên bản: 3.0
Đánh giá: 3
Tổng đánh giá: 7
Ngày cập nhật: 2010-04-13 22:13:49
   
Tải Vegas Slot Machines FREE
Chú ý: Game này chỉ dành cho Iphone, IPad, và các thiết bị sử dụng IOS của apple
Click vào liên kết dưới để tải về điện thoại của bạn.