Viking Warrior vs Zombie Defense ACT TD – War of Chaos Silver Version 1.55 IOS
Viking Warrior vs Zombie Defense ACT TD – War of Chaos Silver Version
Giới thiệu Viking Warrior vs Zombie Defense ACT TD – War of Chaos Silver Version
This is silver version of Barbarian vs Zombie Defense. In this version, we added two new scenes, greatly enhanced elemental attack, added new charms and new skills, re-balanced soldiers especially front-line soldiers. Enemies are stronger than before!
In the fantasy world. You lead the army to protect the magic gem, defeat the enemies, earn gold coins, upgrade your hero, upgrade your skills, soldiers. Collect unique equipment for your army!
Strategic Gameplay
Recruit exciting new allies and set up your defines against hordes of zombies.
Upgrade Your Hero
Become more powerful by level up your hero, and magical abilities!
Upgrade Your Soldiers
Build strong army to defend the magic gem. Acquiring powerful and unique equipment for your allies!
Barbarian vs Zombie Defense is free to play, but you can choose to pay real money for some extra items, which will charge your iTunes account.
Hình ảnh Viking Warrior vs Zombie Defense ACT TD – War of Chaos Silver Version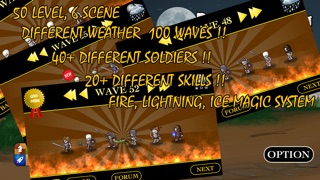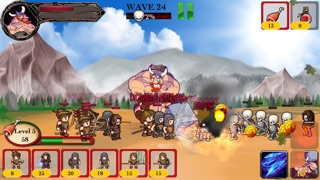 Thông tin bổ sung
File Size: 51,564.00 MB
Phiên bản: 1.55
Đánh giá: 4.5
Tổng đánh giá: 15
Ngày cập nhật: 2014-03-05 23:58:15
   
Tải Viking Warrior vs Zombie Defense ACT TD – War of Chaos Silver Version
Chú ý: Game này chỉ dành cho Iphone, IPad, và các thiết bị sử dụng IOS của apple
Click vào liên kết dưới để tải về điện thoại của bạn.
  
Game bài liên quan
Có thể bạn quan tâm?

* 100,000,000 Bonus Coins! Play 50+ Pokies and Slot Machines in Hot Vegas Slots! *
Play online or offline, with or without wifi, any place, any time! REAL VEGAS ODDS ON EVERY POKIE!
Win Big with HOT VEGAS SLOTS POKIR MACHINES CASINO & SLOT GAMES!!! New Slots Added every month! Don't miss out on the greatest new Slot Game App: Play Hot Vegas Slots Casino TODAY!